Quick Notes Plus 5.0
(author
Conceptworld Corporation
)
Download Quick Notes Plus - 218 Downloads
Buy Quick Notes Plus
Average Rating

(1 vote)

Rate It With 1 Click:
---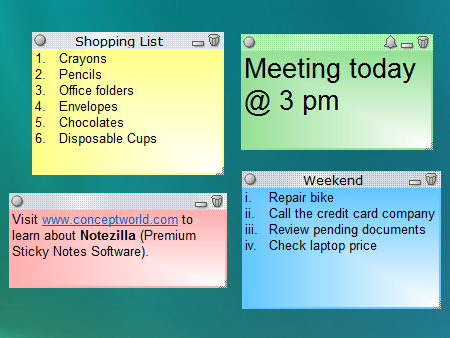 Quick Notes Plus allows you to create skinnable sticky notes on your Windows desktop. You can set reminders to them, so you will never miss any appointment or anniversary. Arrange sticky notes in separate windows called Memoboards to avoid desktop clutter. This is a unique feature of Quick Notes Plus. Each sticky note can wear an enjoyable skin. Skins are downloadable from the Internet. You also can stick notes to documents or a Web site, so that sticky notes show up only when you open a document or visit a particular Web site. You also can send notes over the network to your coworker, send them as e-mail, or as a Net Send message. The new version features skins, the ability to stick notes to documents, send notes as email, and tile/cascade/sort notes, as well as hot-key support, and bug fixes. Take a picture tour at http://www.conceptworld.com/qnp/
---
If you are trying to find a Quick Notes Plus code, serial number, crack, key generator, full version, or anything like that for Quick Notes Plus, look no further. Create Skinnable Sticky Notes on your desktop, set reminders, send them over n/w.
Buy Now. Someone spent a lot of thought, time, and effort creating the software you use. They won't be able to keep improving it or help you if there's a problem if they don't get paid.
You should buy Quick Notes Plus and support your programmer.