LastBit Access Password Recovery 15.0.9219
(author
LastBit Software
)
Download LastBit Access Password Recovery - 143 Downloads
Buy LastBit Access Password Recovery
Average Rating

(1 vote)

Rate It With 1 Click:
---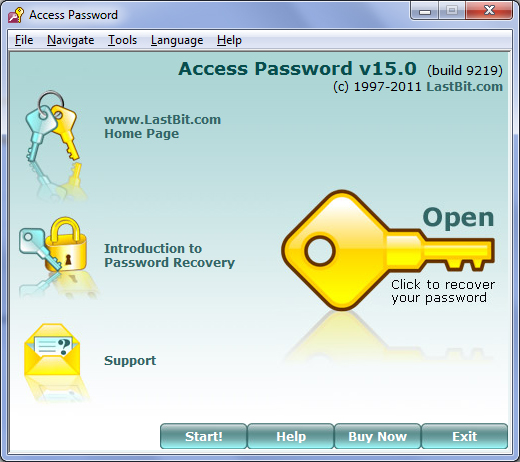 Complete password recovery solution for MS Access. Using Access Password, you can decrypt passwords for any Jet databases, not only Access databases. Access Password supports all MS Access versions from v2.0 through 2010, file types: Access 2007, 2010 : .accda, .accdb, .accdc, .accde, .accdt; Access 2003 and earlier: .mda, .mdb, .mde, .mdw. Program reveals database passwords (Access 95 -2010), user passwords (Access 95 - Access 2003). Recovery methods used by Access Password are Instant Password Extraction (all versions through Access 2003), Brute Force Attack (Access 2007, 2010), Dictionary Attack (Access 2007, 2010), Smart Force Attack (Access 2007, 2010), Password Variation (Access 2007, 2010).

Program supports

1) Guaranteed Access 2007 Password Recovery Service. You can reveal any password-protected Access 2007 database within 48 hours - regardless of the password length. Available for registered users.

2) Office 2007/2010 Password Recovery Service - available if your install demo version of Access Password.
---
If you are trying to find a LastBit Access Password Recovery code, serial number, crack, key generator, full version, or anything like that for LastBit Access Password Recovery, look no further. Recover lost MS Access database and user passwords.
Buy Now. Someone spent a lot of thought, time, and effort creating the software you use. They won't be able to keep improving it or help you if there's a problem if they don't get paid.
You should buy LastBit Access Password Recovery and support your programmer.