ReaJPEG Pro 4.5
(author
reasoft
)
Download ReaJPEG Pro - 271 Downloads
Buy ReaJPEG Pro
Average Rating

(11 votes)

Rate It With 1 Click:
---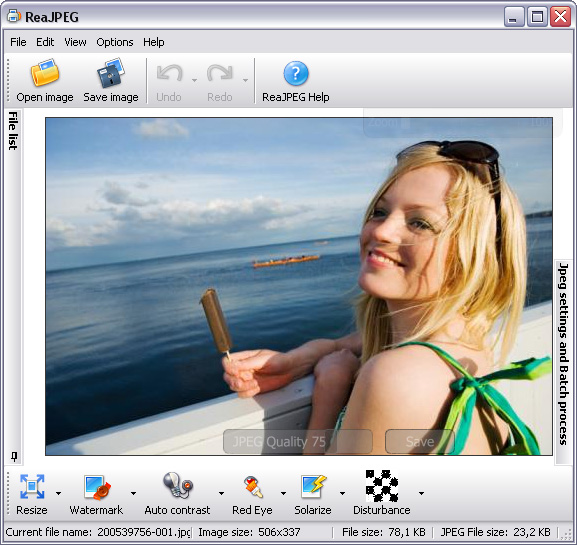 ReaJPEG is the batch photo editing software developed especially for keen photographers, designers of different types and those who do not want to waste time on picture editing. 65 graphic formats are supported by the program making it welcomed by professional illustrators.
Well-liked CRW / NEF / ARW / RAW image converter ReaJPEG also has built-in photo editor and can be integrated into the Windows Explorer. The program offers popular image manipulation functions, including resizing, cropping, rotating, mirroring, changing brightness, contrast, border, etc. Enhancing photo editing nowadays is impossible without the options of adding watermarks, red eye correction and a dozens of diversified artistic effects. When this work is done by ReaJPEG, the user is certain about the desired result.In addition to this, ReaJPEG is the favoured image converter which converts images from commonly used and even specific graphic formats to JPEG. Images to JPEG can be converted either one by one or all at once as a batch job. In both occasions the process does not require much time and is rather simple, not to say automatic.When the output settings are chosen, image editing starts immediately and smartly. Once again thanks to the batch mode the mass conversion is accomplished without any special effort. The tool enables you to manage compression quality, process RAW files, create grayscaled or progressive photos, transfer all necessary information. Before applying the artistic effects to the image the photographer may preview the file which is rather convenient. With ReaJPEG it is effortless to rename the output files and adjust settings for multipage files, too.The program supports command lines and Windows Explorer right-click menu integration. This console utility makes the whole processing even faster. Automated features are extensive in ReaJPEG Pro.
---
If you are trying to find a ReaJPEG Pro code, serial number, crack, key generator, full version, or anything like that for ReaJPEG Pro, look no further. Batch photo editing software and CRW / NEF / ARW / RAW converter to JPEG.
Buy Now. Someone spent a lot of thought, time, and effort creating the software you use. They won't be able to keep improving it or help you if there's a problem if they don't get paid.
You should buy ReaJPEG Pro and support your programmer.