Registry Defragmentation 9.3.6.10
(author
Elcor Software
)
Download Registry Defragmentation - 442 Downloads
Buy Registry Defragmentation
Average Rating

(14 votes)

Rate It With 1 Click:
---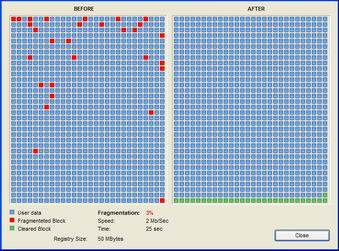 Registry Defragmentation is a small utility that does gigantic improvements in PC performance. Registry is the core of any operating system and it is the proper functioning registry that determines how fast the computer boots up, launches applications and carries out commands.
This application physically defragments the Windows registry file to give it the proper linear structure. After a single run of Registry Defragmentation, the computer speed increases up to 100% and the computer itself stops freezing and crashing. As a result of regular registry defragmentation, computer users get a more stable operating system, shorter application/system response time, and the most optimal linear registry structure. Registry Defragmentation is an absolutely essential tool for all folks who install/uninstall new software applications frequently. It often happens that uninstalling an application does not completely remove all program components. These components start hindering the computer performance, consuming system resources that should be allocated otherwise. As more and more applications get installed and uninstalled, the problem keeps growing, making computer performance unpredictable. This and many other registry-related problems can be easily fixed by Registry Defragmentation. The program is very easy to use and very moderately priced, making it affordable for any group of computer users.
---
If you are trying to find a Registry Defragmentation code, serial number, crack, key generator, full version, or anything like that for Registry Defragmentation, look no further. Performs physical defragmentation of the Windows registry.
Buy Now. Someone spent a lot of thought, time, and effort creating the software you use. They won't be able to keep improving it or help you if there's a problem if they don't get paid.
You should buy Registry Defragmentation and support your programmer.