Relay Timer Lite 2.2
(author
Serial Port Tool
)
Download Relay Timer Lite - 179 Downloads
Buy Relay Timer Lite
Average Rating

(1 vote)

Rate It With 1 Click:
---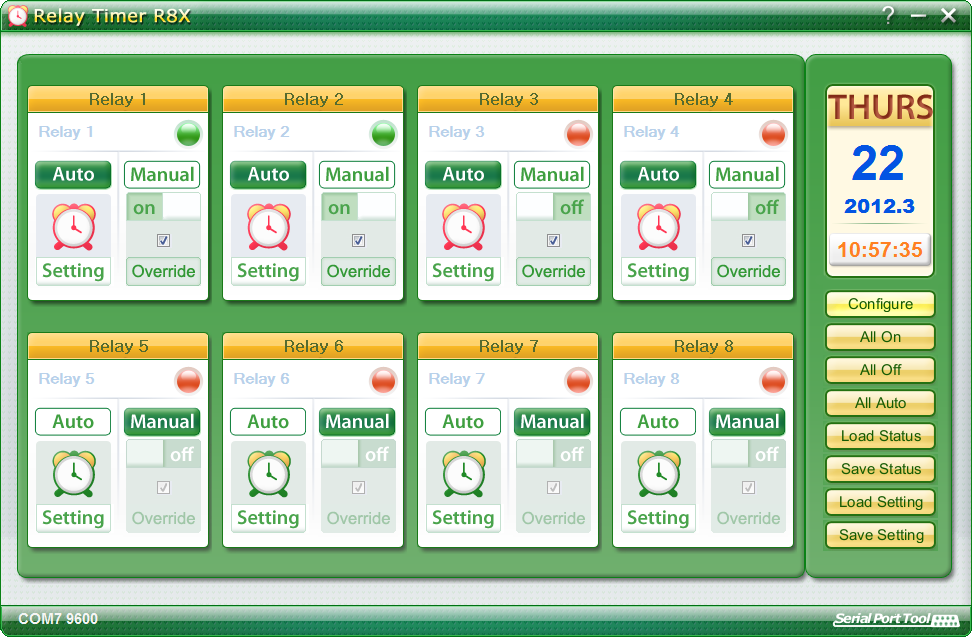 Relay Timer Lite/R8X is programmable timer software for setting timing features of relay. It works with 8-channel relay controller boards of National Control Devices (NCD) .

It supports Com Port and Network connection between PC and relay board. The connection status is detected and shown continuously. It will remind after disconnection and recover after reconnection automatically.

Relay can be turned on/off manually and automatically according to powerful schedule setting. Each relay can be programmed separately with multiple schedules.

The current status of relay is updated and displayed simultaneously. The program can be set to run automatically after logging in Windows. It can control the relay with very precise timer, while consuming the processor's resource at very low level.
---
If you are trying to find a Relay Timer Lite code, serial number, crack, key generator, full version, or anything like that for Relay Timer Lite, look no further. Programmable timer for setting timing features of 8-channel relay boards.
Buy Now. Someone spent a lot of thought, time, and effort creating the software you use. They won't be able to keep improving it or help you if there's a problem if they don't get paid.
You should buy Relay Timer Lite and support your programmer.